How To Make A DIY Wood Countertop (easier than you thought!)
This post may contain affiliate links. Please see disclosures here.
Create your very own DIY wood countertop and even add a little "faux" aging if you like! It's so much easier than you thought!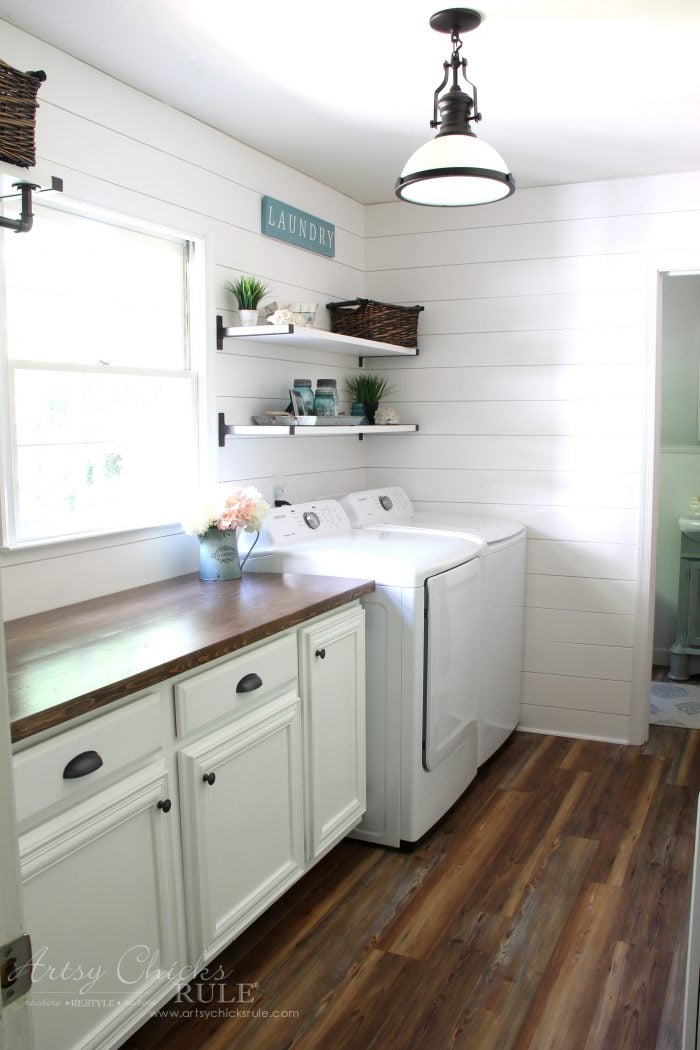 Hey Friends! I'm back today to share another tutorial for the recently completed –>> "Coastal Farmhouse Laundry".
How to make a DIY wood countertop and how I gave it a tiny bit of "aging" too.
You can see the aging just a bit in this photo.
I wanted it to have a bit since the floor also looked "aged".
Have you ever considered putting a wood countertop somewhere in your home? Bathroom? Kitchen countertops?
Or do you have a wooden countertop already? Butcherblock countertops are very popular.
It really was not hard to do at all. But it was a little hard to wrangle because it was so long.
Other than that, not so bad!
They can be just as durable as other materials if they are finished correctly. Plus is nice to have another option besides laminate, marble and granite, right?
MATERIALS LIST
5 – 2x6x8 white pine boards lumber

biscuit joiner (we have a Ryobi brand but this one is similar)

sandpaper
(Want to see even more of my favorite DIY supplies??? Take a look in my very own curated shop, here!)
Ripping Wood 
We started out by ripping each side of the boards by 1/4 inch, which totaled 1/2 inch for each board.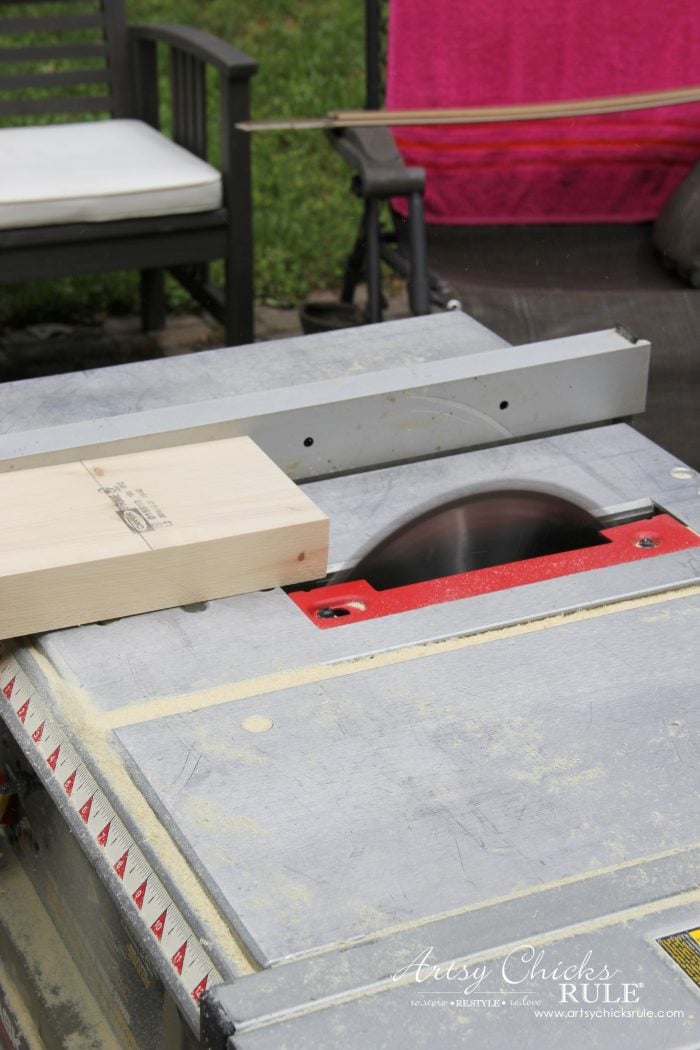 That did 2 things, it created smooth sides to meet up and it made the countertop the right depth.
We could have left the sides as they were but they come a bit beveled and I didn't want that look.
I wanted to have it pretty smooth going across the top.
Plus I wanted the boards to be all the same size.
Want to see some of these projects in "live" time? Hop on over and follow along with me on INSTAGRAM. I'm always sharing in my stories as I'm doing projects, finding new furniture, fun finds….just all the day to day behind the scenes. 
Cut Slots For Biscuits
Next, my husband cut slots with the biscuit joiner to join the boards together…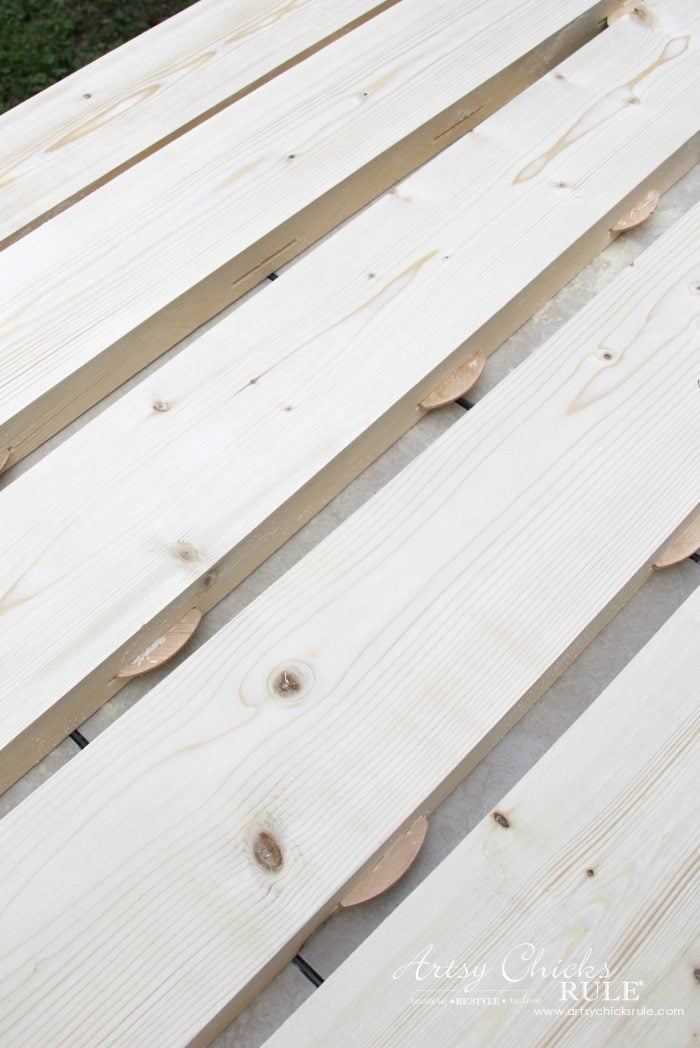 He pulled it apart so I could take a photo.
I would have had more detailed photos of this whole process but we were on that crazy ORC schedule.
He put these back together and then sanded them smooth…..outside.
You can also use something like a Kreg Jig with pocket holes too.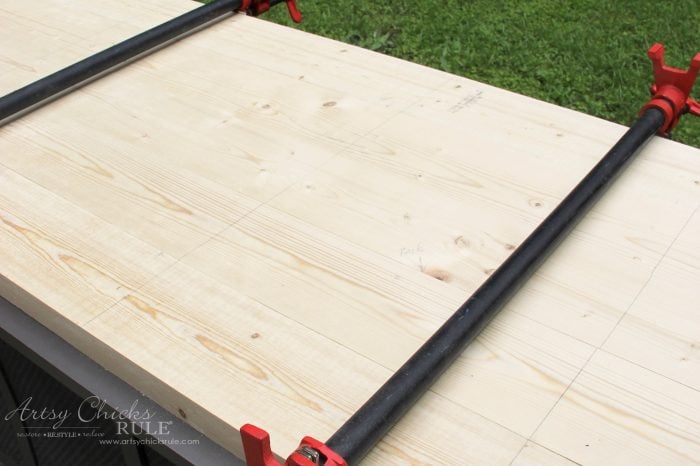 I wish I had taken a photo of how the pine boards looked before we ripped them down on each side.
It wasn't bad, it just wasn't nice and smooth going across the top. The wood dipped down in the seams.
If you like that look, then you can skip the "ripping down the wood" step.
We used pine because that was the look we were going for. But keep in mind that pine is soft and may scratch or dent more easily. You can use other hardwoods like maple, etc., instead.
Glue and Clamp in Place
Next, we brought it in and pieced it back together to slide it into place.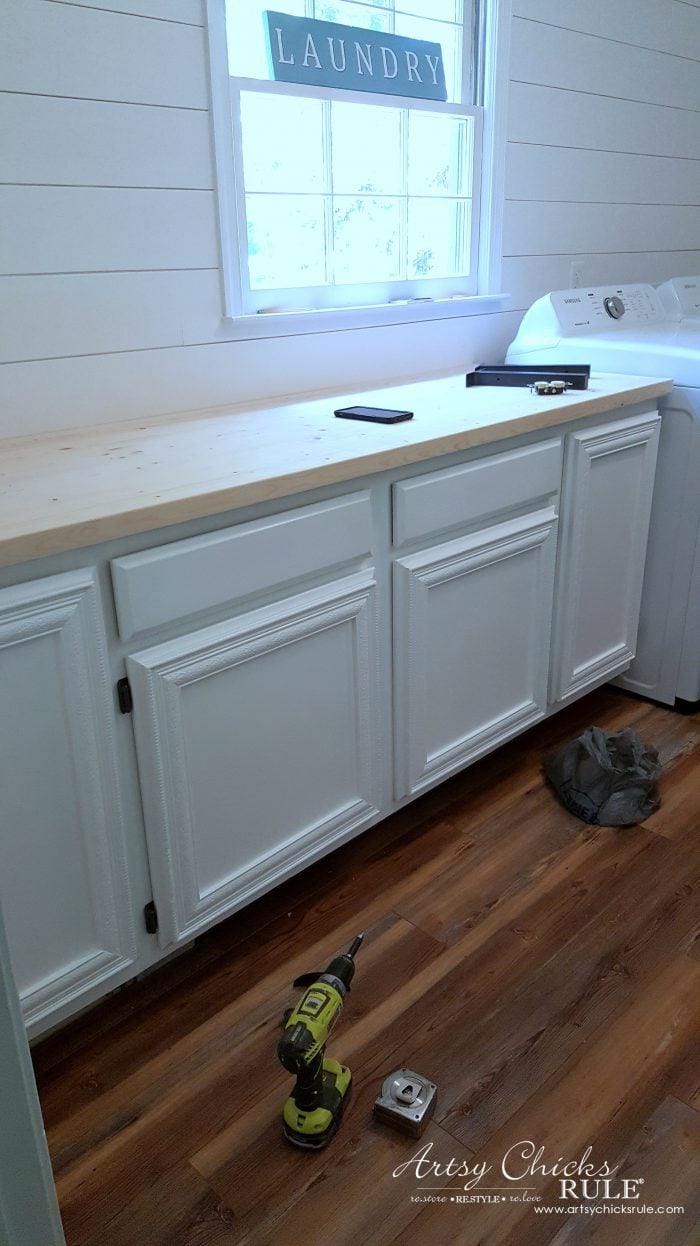 Sadly, I don't have a photo of it clamped  (with 4 – 3 ft clamps) here but this is where we clamped and glued it together.
We didn't want to risk moving it again.
This photo was taken after it was dry and the clamps were removed.
By the way, be careful when you glue that it doesn't seep up into the top of the wood.
Any area that has wood glue will not accept the stain and you'll be left with unfinished-looking spots.
Decide on a Finish
For the finish, I had created so many samples that my head was spinning.
This is what I narrowed it down to…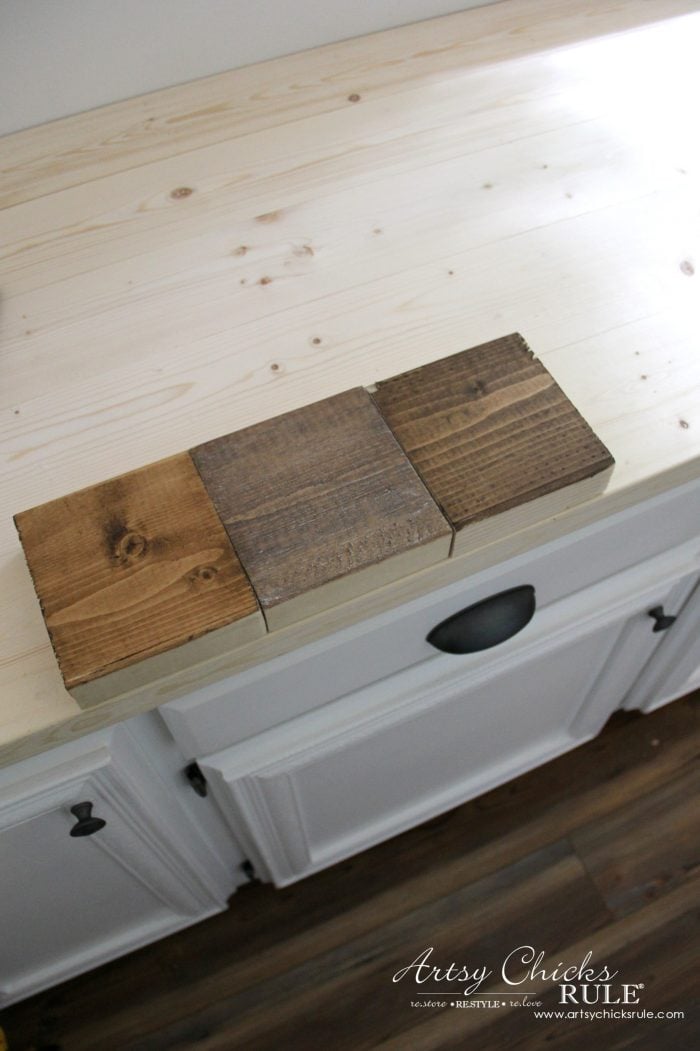 I just could not decide what to do with this with our DIY wood countertop.
That flooring was the main attraction and everything just looked wrong next to it.
You can read all about our awesome flooring, here. (I love it and am so happy with it!)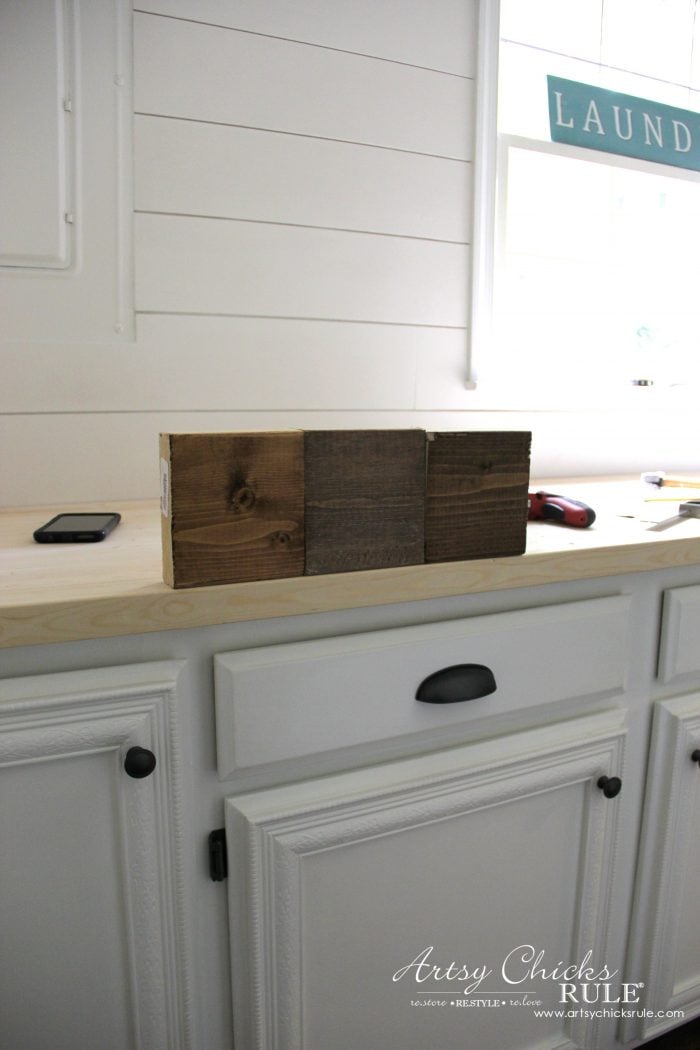 I finally decided on a variation on that center block.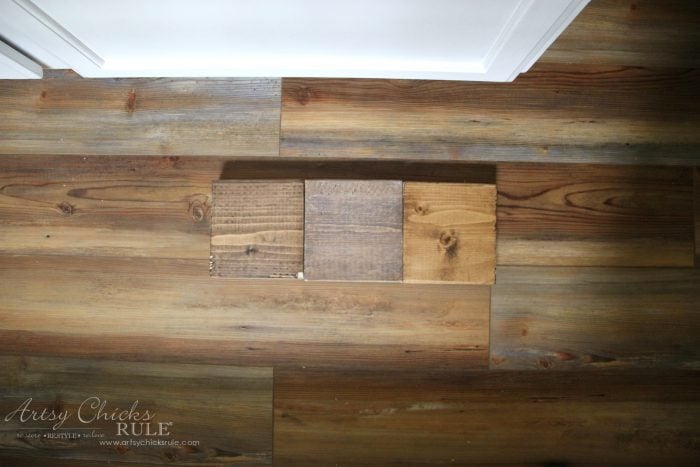 I have to say though, those 3 blocks sure match that floor well!
I typically use Minwax Pre Stain Conditioner anytime I stain raw wood but I wasn't liking how it was turning out.
It was ending up too dark.
I had done a few samples with my favorite driftwood stain to see if I liked that look. (I didn't)
So I grabbed one of those and rubbed my stain right over it.
Yes! That kept the stain from grabbing too dark plus it changed the shade of the stain just a bit.
So that's what I used as a "pre stain". Weird, I know, but you do what works.
Here is the wood with the driftwood stain applied. (and lifted so as not to get stain on the cabinets and surrounding areas)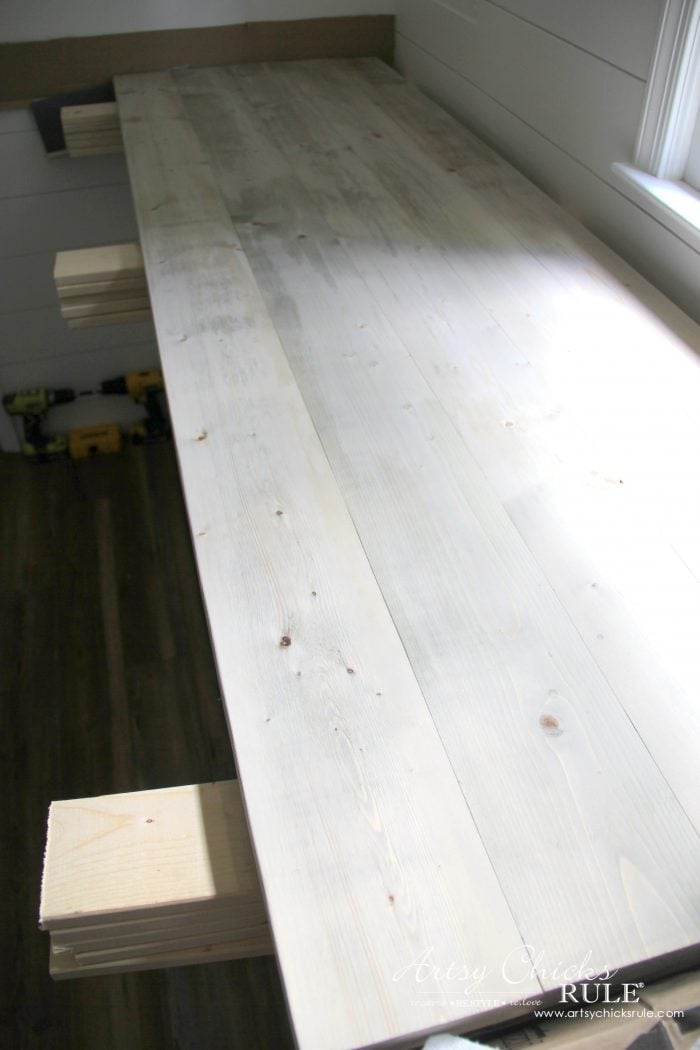 Another view of the driftwood…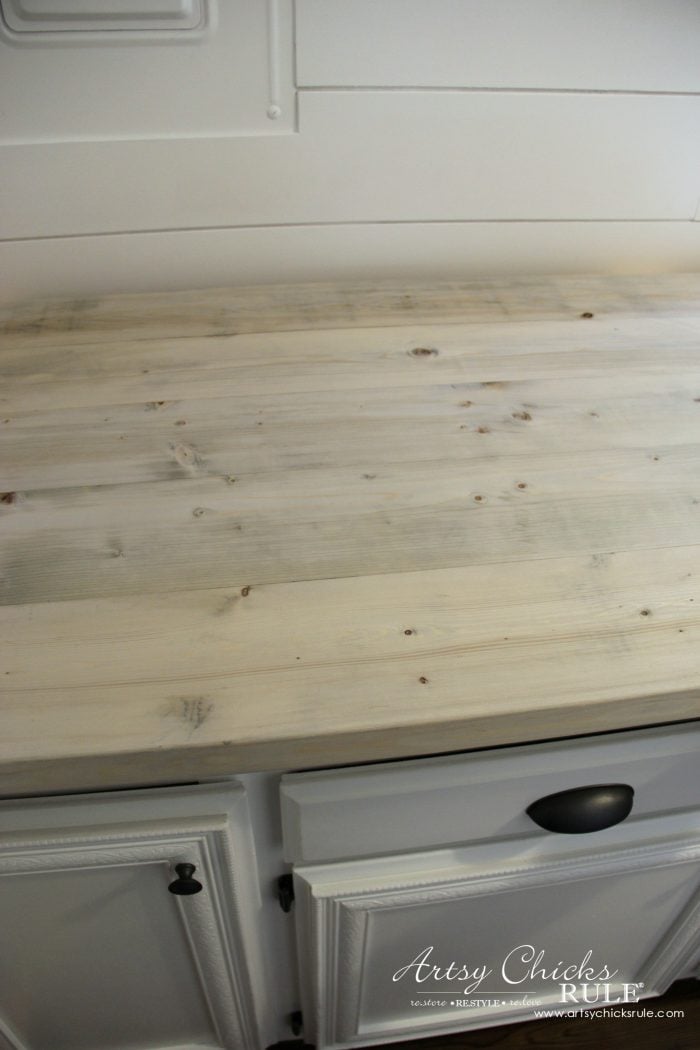 It's pretty subtle but that's because it takes a bit for the driftwood color to develop.
Once it was dry, I applied my antique walnut stain.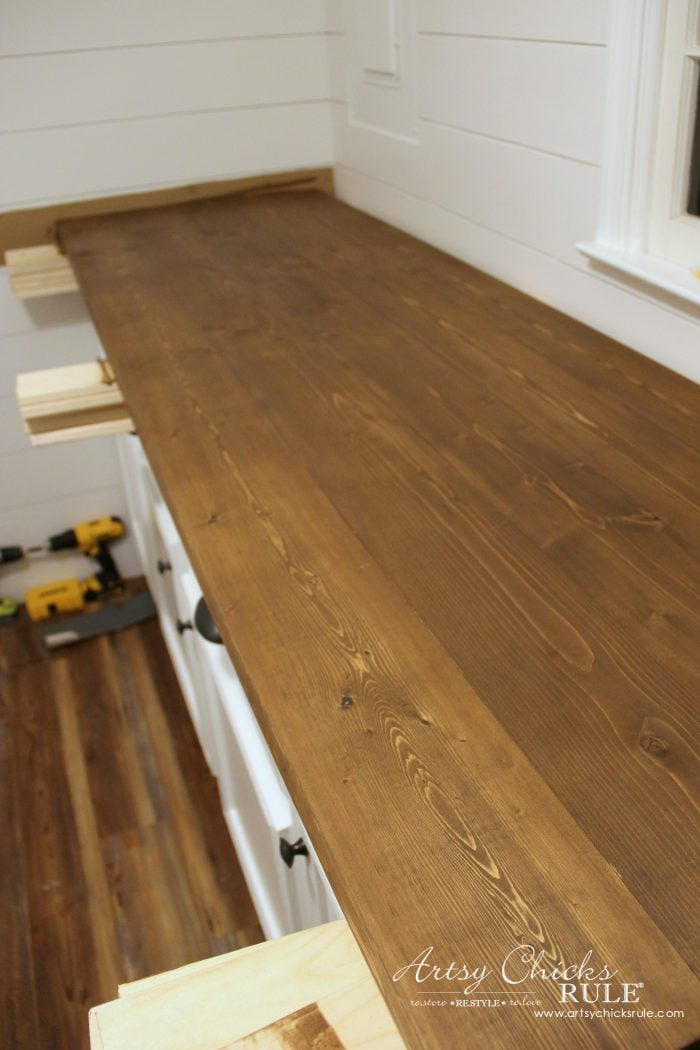 Perfect! Exactly the color I wanted. Not too dark and not too light.
I wanted it to have a bit of an aged appearance so I knew I was going to apply some white dry brushing as I did on the sample board I chose.
But…I didn't want to ruin all this work if for some reason the paint when on too thick or something.
So I decided to apply one coat of poly first. (easy to wipe up if you make a mistake after)
Once it was dry, I came back and very lightly went over the whole top with my chip brush and white paint. (in a very dry, dry brush technique)
Remember though, light strokes.
Drybrush For Aged Look 
Want to see a VIDEO on exactly how to dry brush? All the ins and outs, here >>> "How To Dry Brush – Video"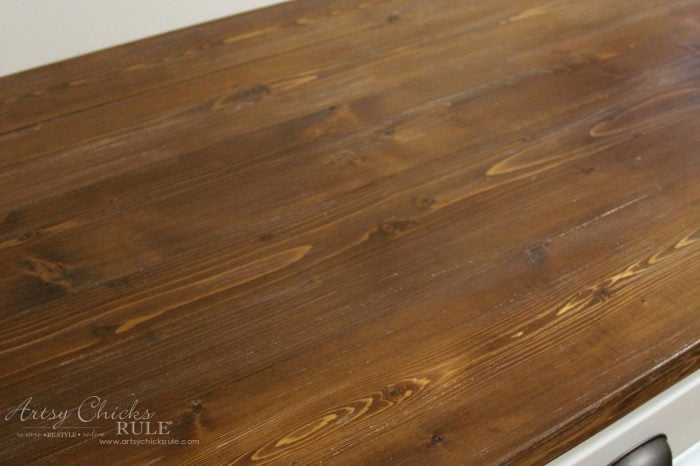 I love the look it gave our DIY wood countertop.
When we were done with the staining, etc., we screwed it in place from the underside of the cabinet.
Sealing With Poly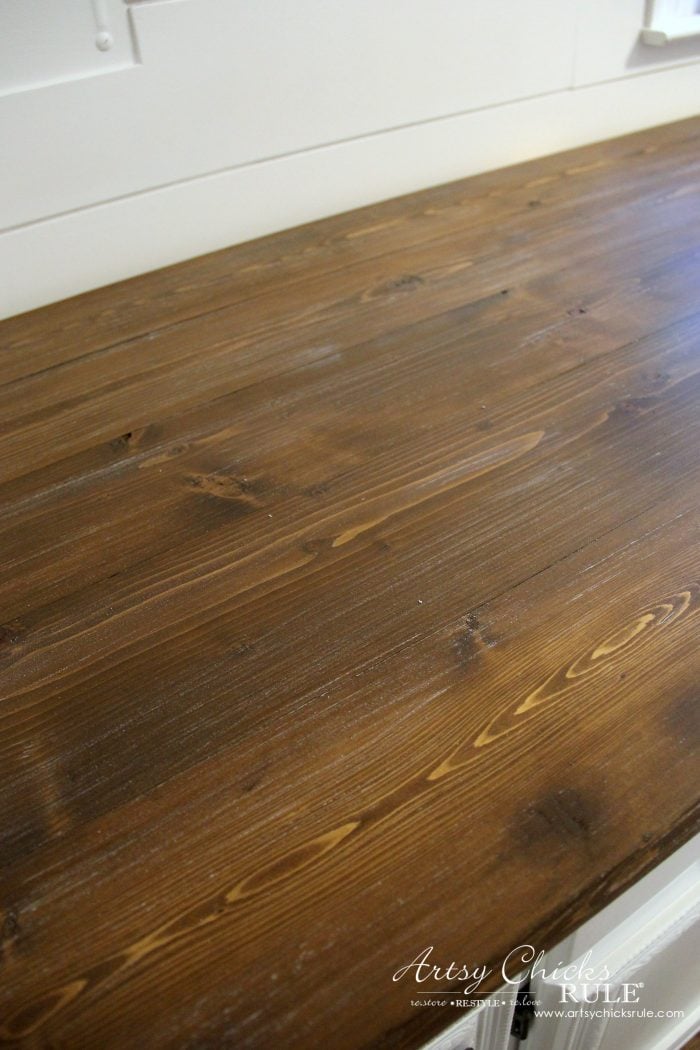 I sealed that with another coat of polyurethane. Some people apply Waterlox, I just used regular poly since it's not in a bathroom or kitchen. You can use the sealer of your choice. (I have linked the one I used above)
Once that was dry, I gave it a light sanding with fine grit sandpaper and applied a bit more white here and there. Be sure to remove all of the dust with a tack cloth before applying another coat of poly.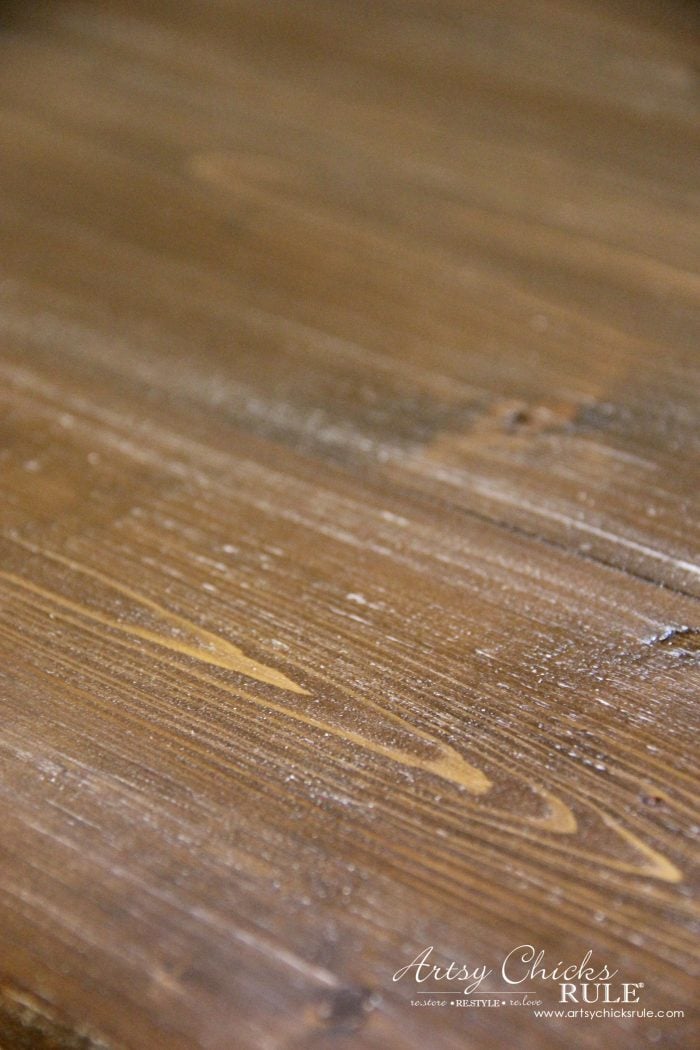 Then I gave it another coat.
I will probably give it another coat or two but that's it, all done!
Much easier than we expected it to be.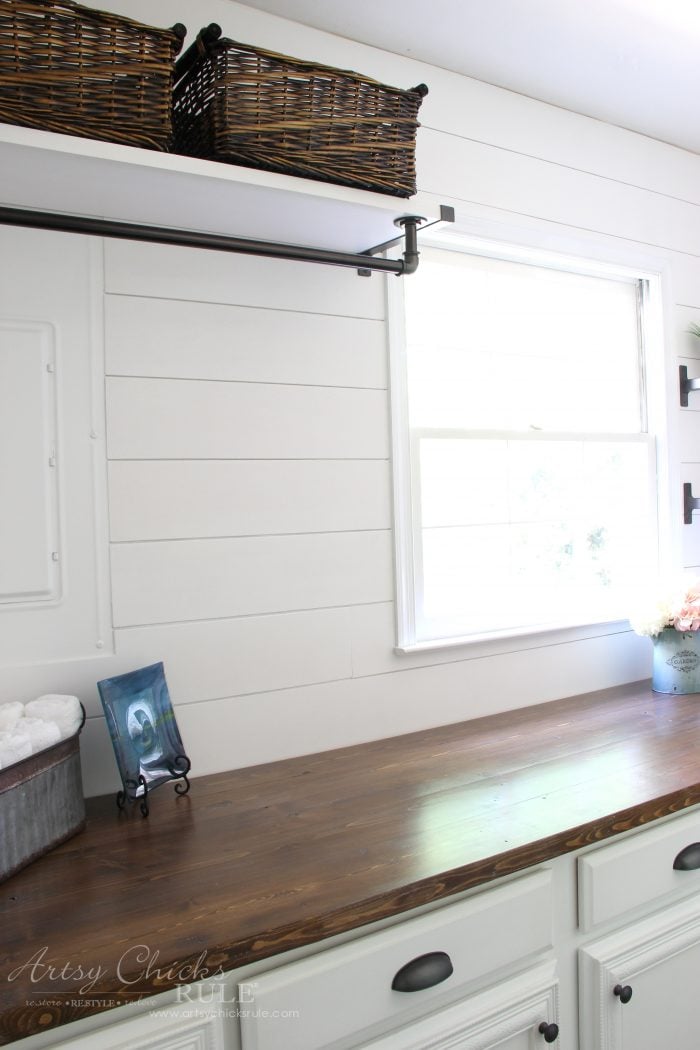 And I love the warmth and contrast it gives to the room.
Plus I think the tiny bit of "aging" I gave it goes nicely with the flooring.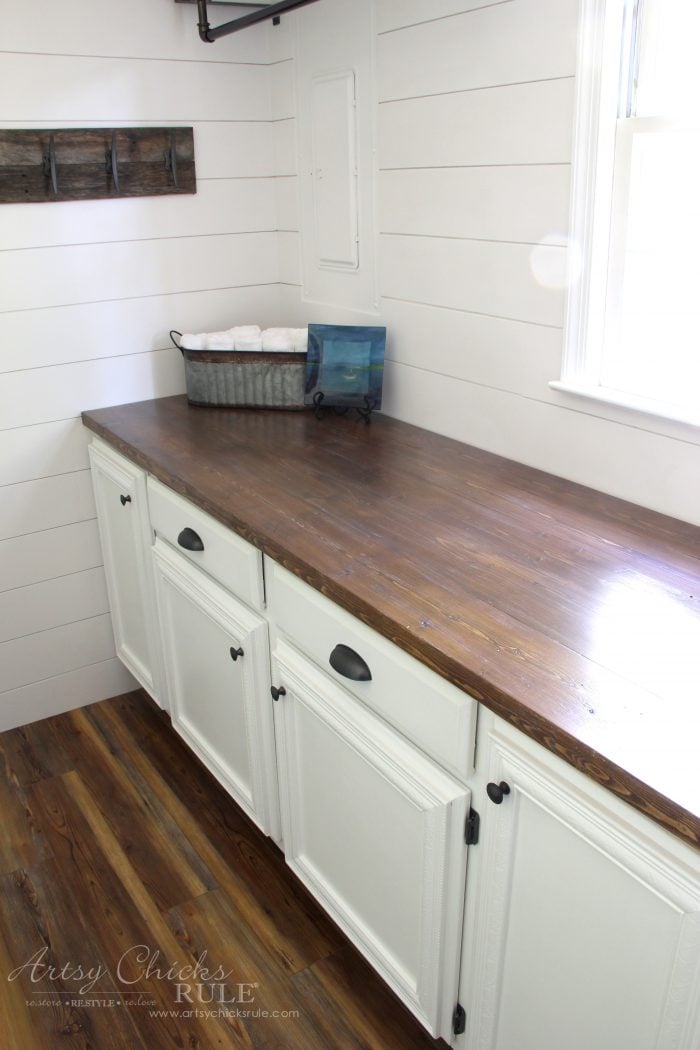 PIN this DIY Wood Countertop to save it for later!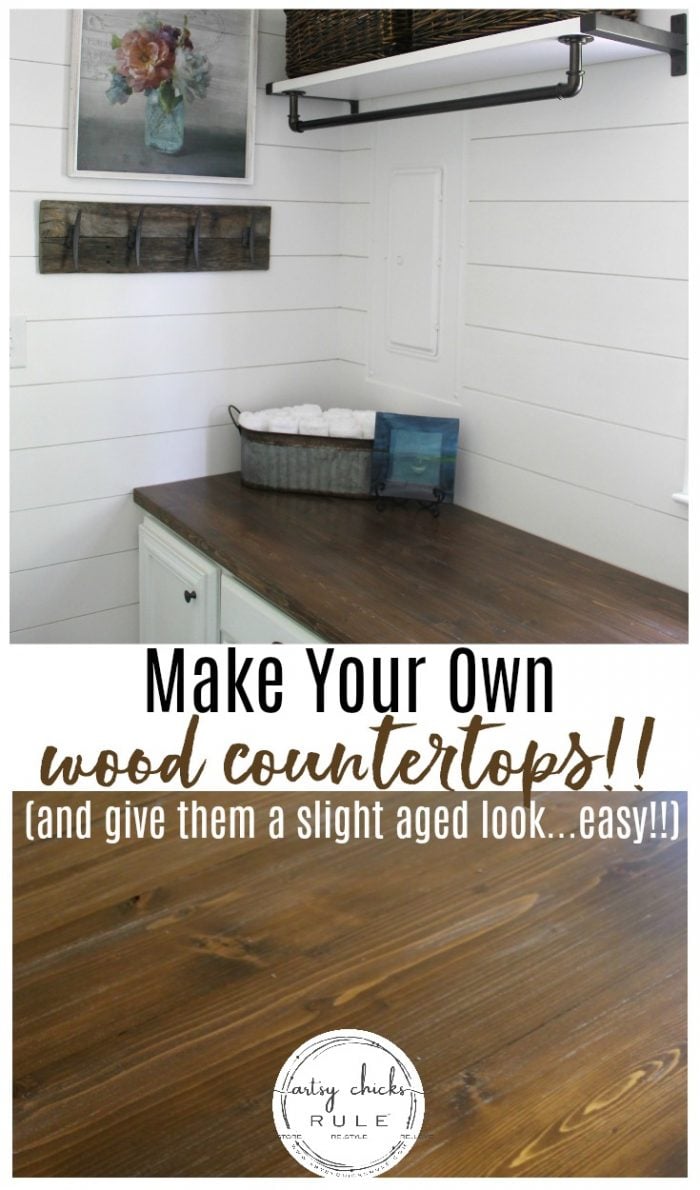 Now I want to put a DIY wood countertop somewhere else!
Too bad I have nowhere else to really put one. Maybe in the next house!
More home DIY tutorials we have shared here:
You might also like to see how we installed "shiplap", the easy (and inexpensive!) way: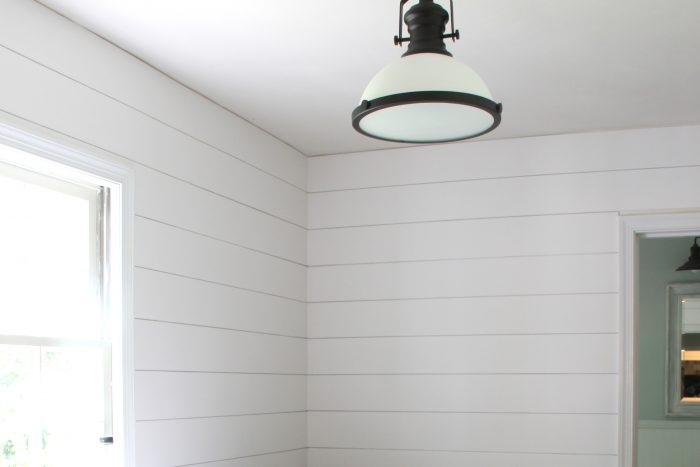 See it, here!
I hope you all have a wonderful holiday weekend!
xoxo
Here are a few of the other projects seen in this post: