A Few Updates (and mirror redo!)
This post may contain affiliate links. Please see disclosures here.
A few updates around here but a simple process to create this high end mirror redo look!
Hello sweet friends!
I don't really have a new project for you (well, sort of I do) because it's been a busy week. (and I was sick last week) But I did get a few things done.
One was this mirror.
I don't really love the mirror here on this wall. It doesn't really make sense since it's high up on the wall. I've wanted to change it to maybe some artwork or something for a long while but just have not yet. So, instead of rushing to just find anything I decided to keep it up there for now. BUT I don't love the frame anymore. I have moved away from the " coastal farmhouse" look in the rest of our home and going more coastal/traditional. Or glam coastal as I like to call it. ha!
So the finish I painted on the mirror frame was no longer to my liking. (you can read all about it here)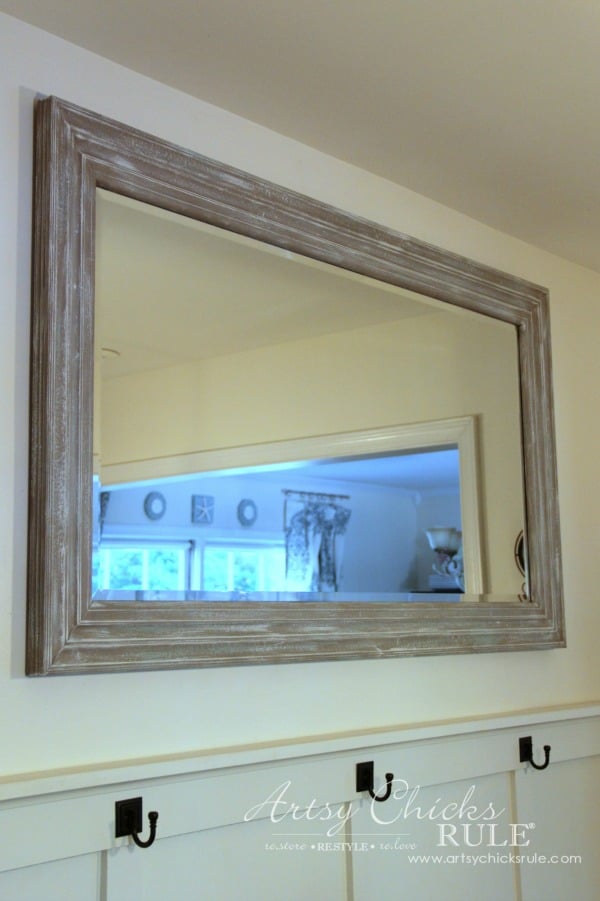 Yes, it does go with my coastal home but I was ready for a little more "less distressed, weathered" look.
Although, I gave it a different type of weathered, distressed look instead!
Yep, more patina. I really liked the look of the recent mirror frame that I gave a patina to. (you can see that one here)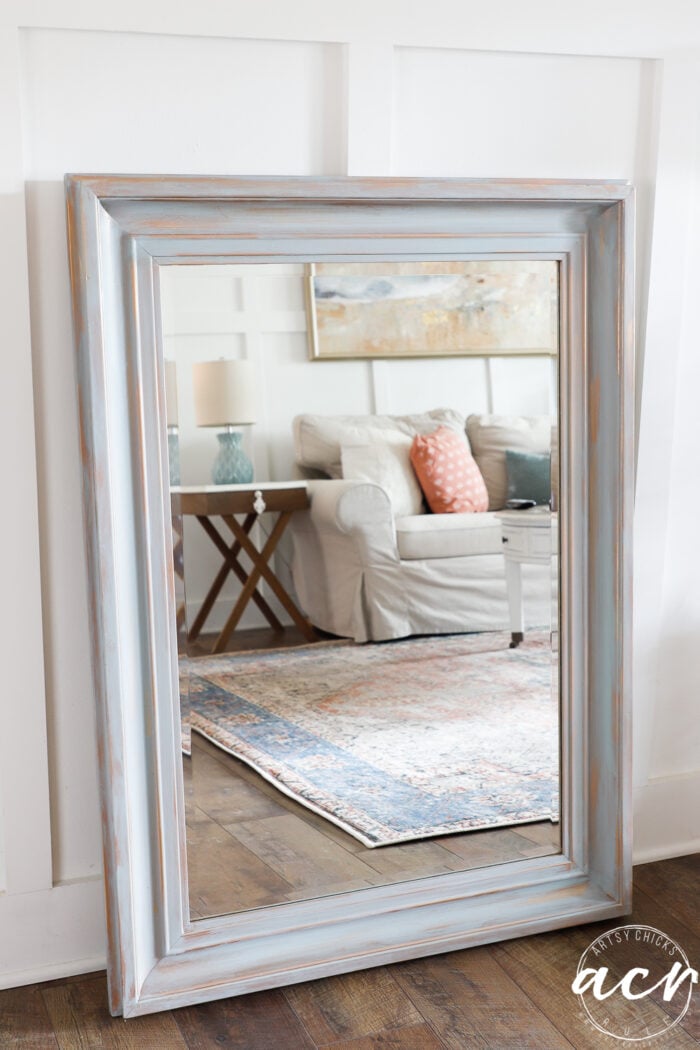 So decided to recreate the look on the mirror here in the kitchen.
Mirror Redo
I began by taping up and then painting the frame in a copper color. Since I didn't want to take it down I couldn't use the same spray paint that I did on the other ones I've done in the past.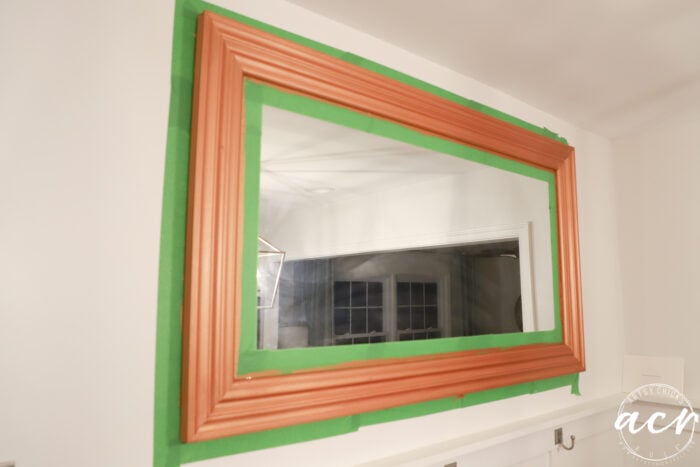 So I used this instead…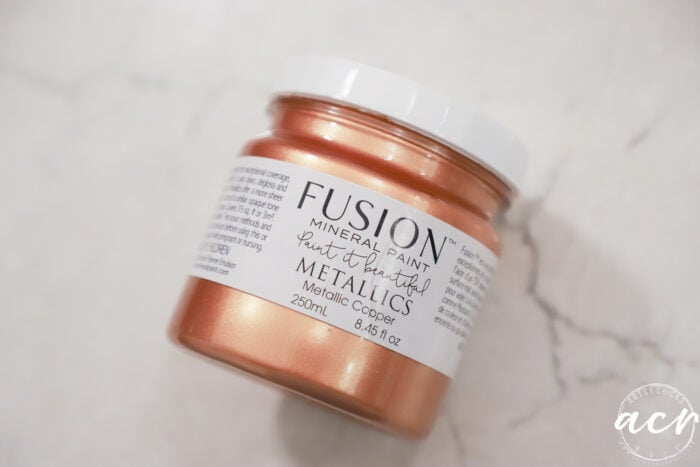 Once that was dry, I used these two colors to create the patina look.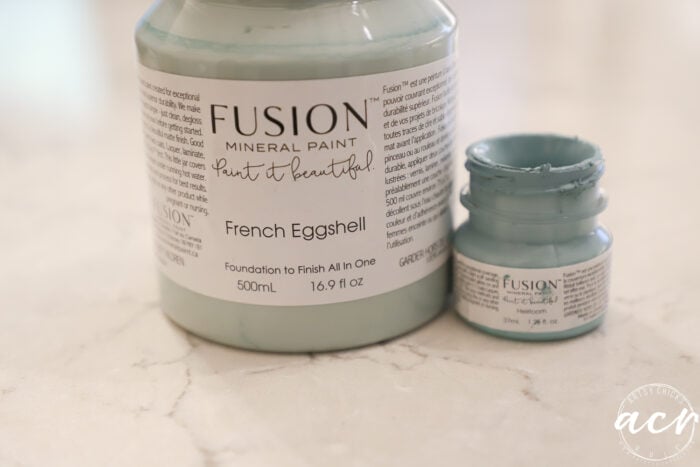 I applied the French Eggshell first, mixed with a little water. (with a chip brush)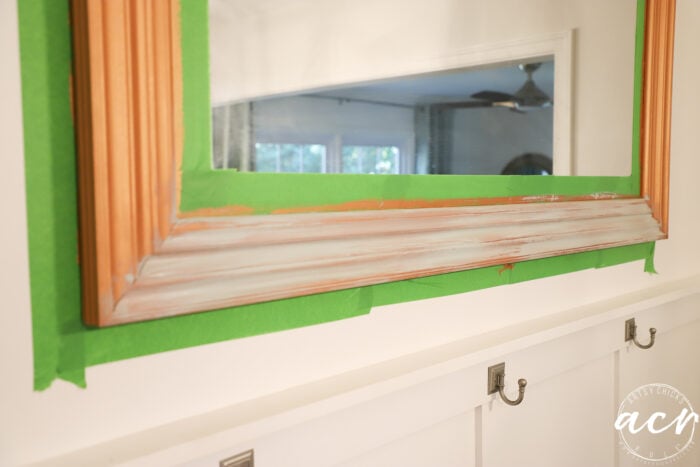 Just like the last mirror frame I did, I didn't try to cover completely.
And I go back over after and wipe away some of the paint.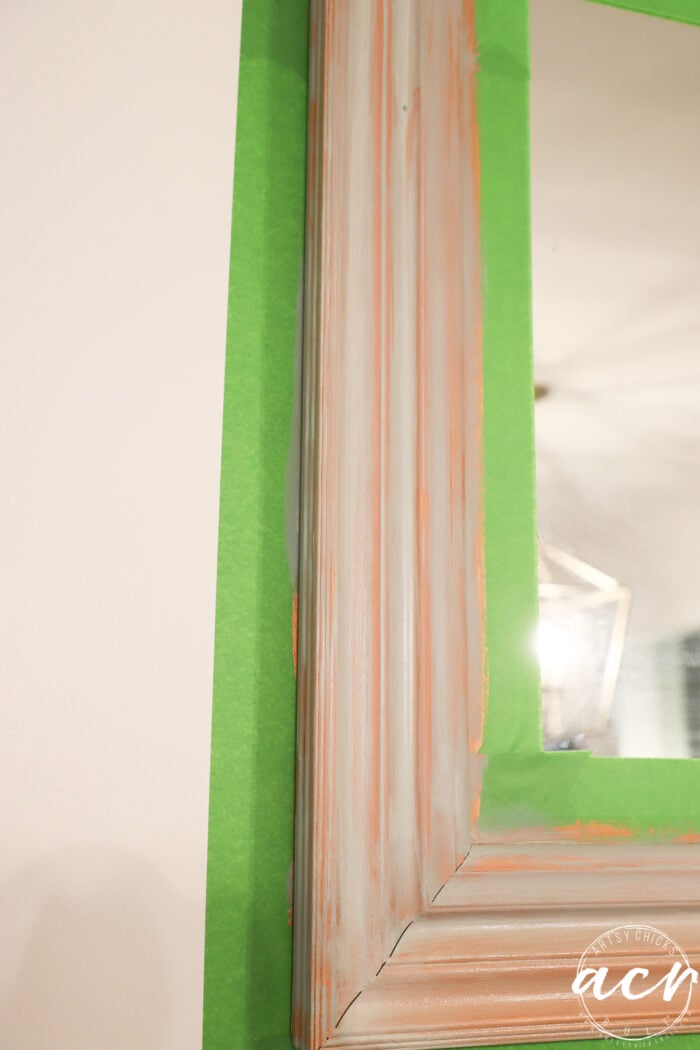 When I liked how it looked I let it dry.
Then I went over it with the darker color, Heirloom.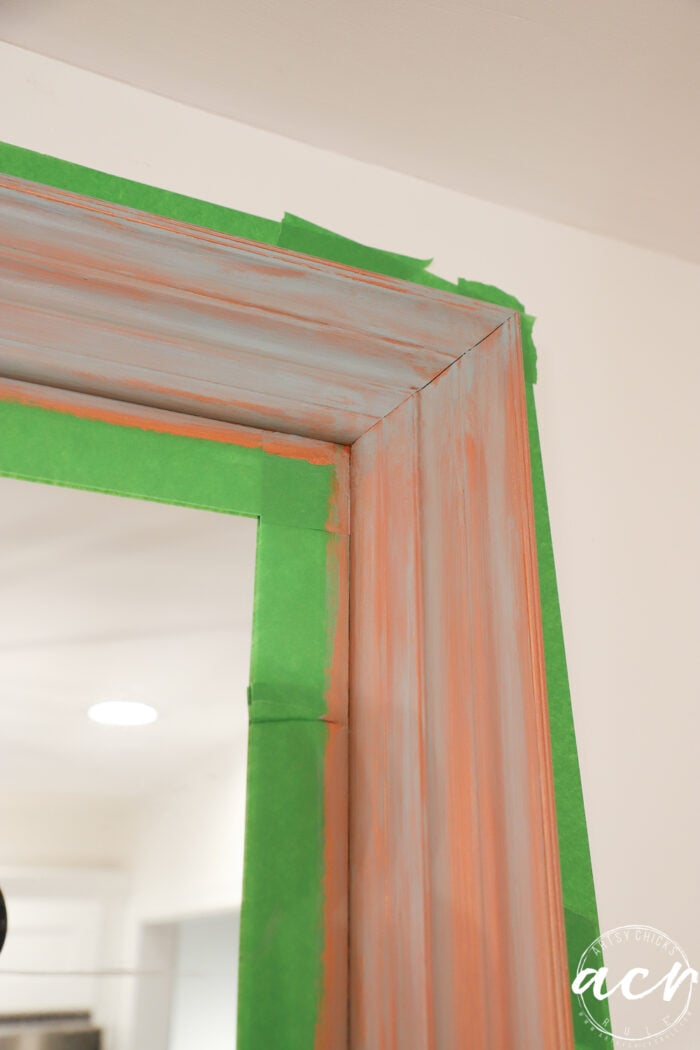 You can see it there on the top section.
Wiping away some as I go. Once that was dry I dry brushed (with a chip brush) some more of the lighter blue over top.
Once dry I rubbed on some of the Rich Gold here and there.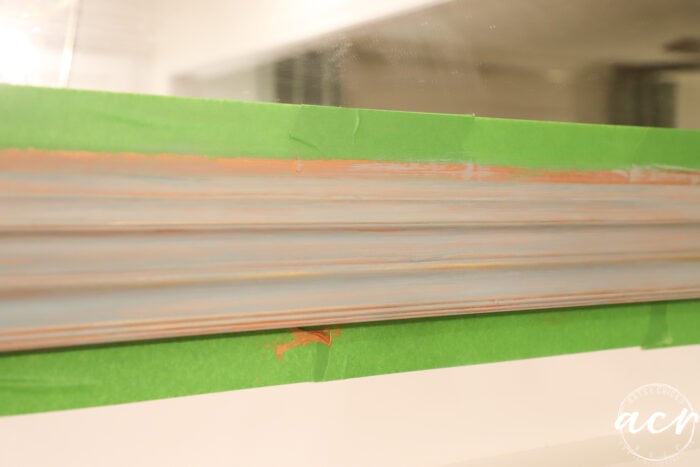 And finished the look with some of the Champagne Gold Metallic Paint. (again with my finger to better control where I put it)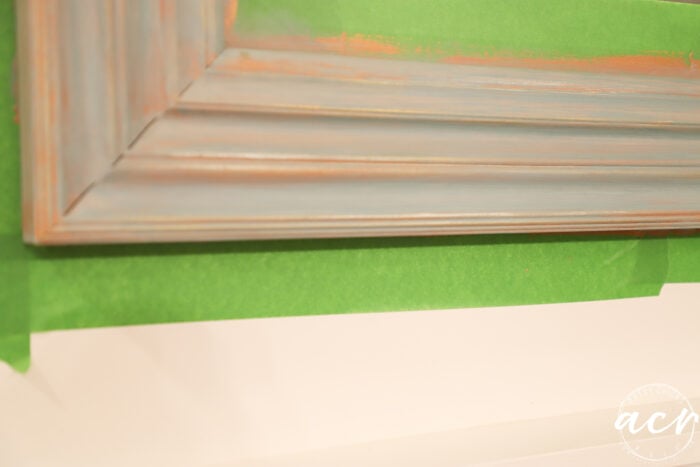 It just gave it that little extra hint of glam. Or shimmer.
And done! 
My mirror in the kitchen now has a brand-new look.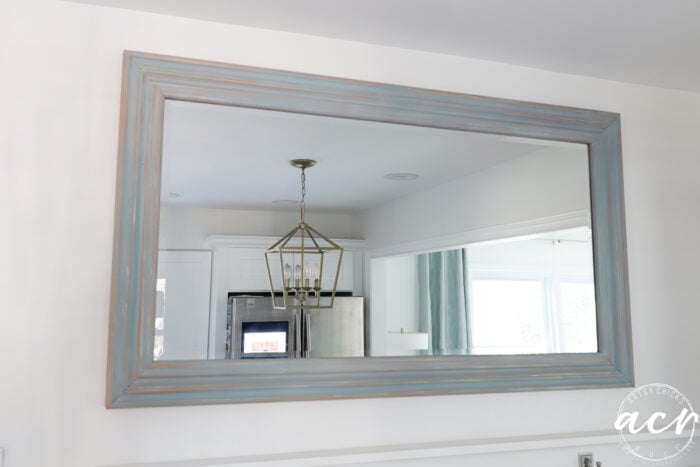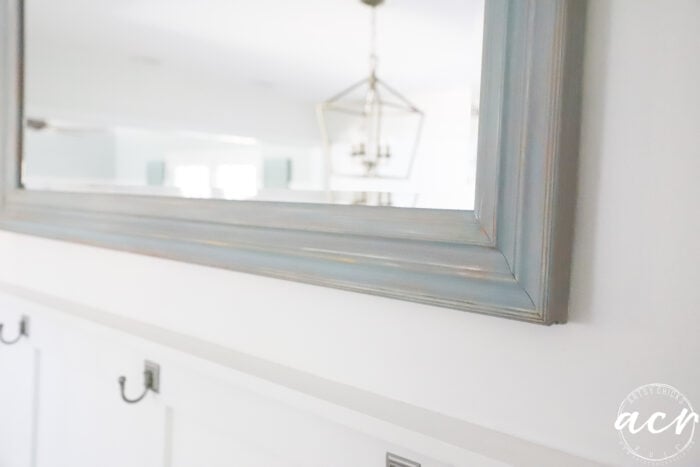 Love it! All good until I decide to take it down finally. Stay tuned. lol
And the updates I mentioned in the post title.
If you follow along on Instagram, you probably already saw my stories this past weekend about this.
Well, we got a different couch. Actually, it's the same one we have at our beach condo.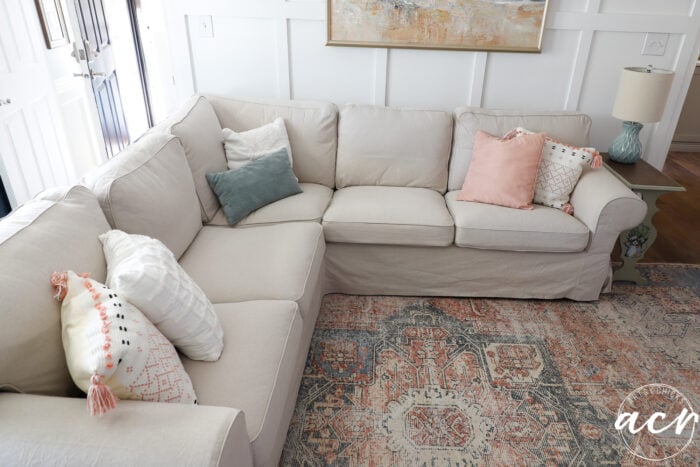 It's an IKEA sectional. We have a very odd space here which is just complicated by the door and door openings.
This particular one is the only one that really fits here but IKEA discontinued this line (Ektorp).
Luckily I found one on Facebook Marketplace AND I had bought an extra cover when we bought the one for the beach condo before they sold out. Yippee!! So, we had a brand new cover to put on it. Win-win!
And I love it in here! We had wanted a sectional for a long time (for comfort and more seating more than anything else) but just didn't think it would work with the door, etc.
But I think it's fine!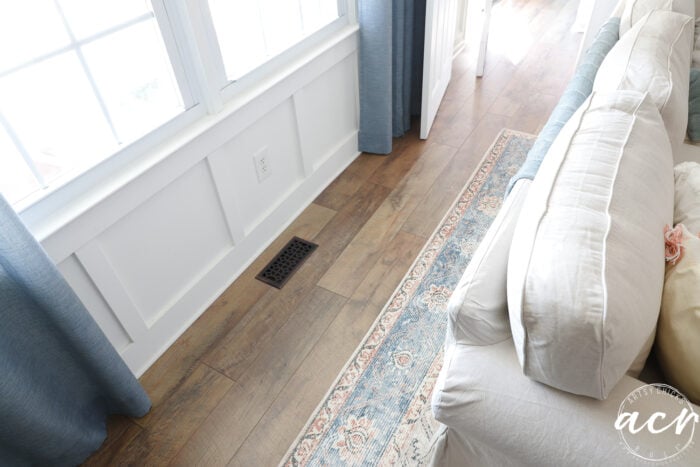 Plenty of space to walk around.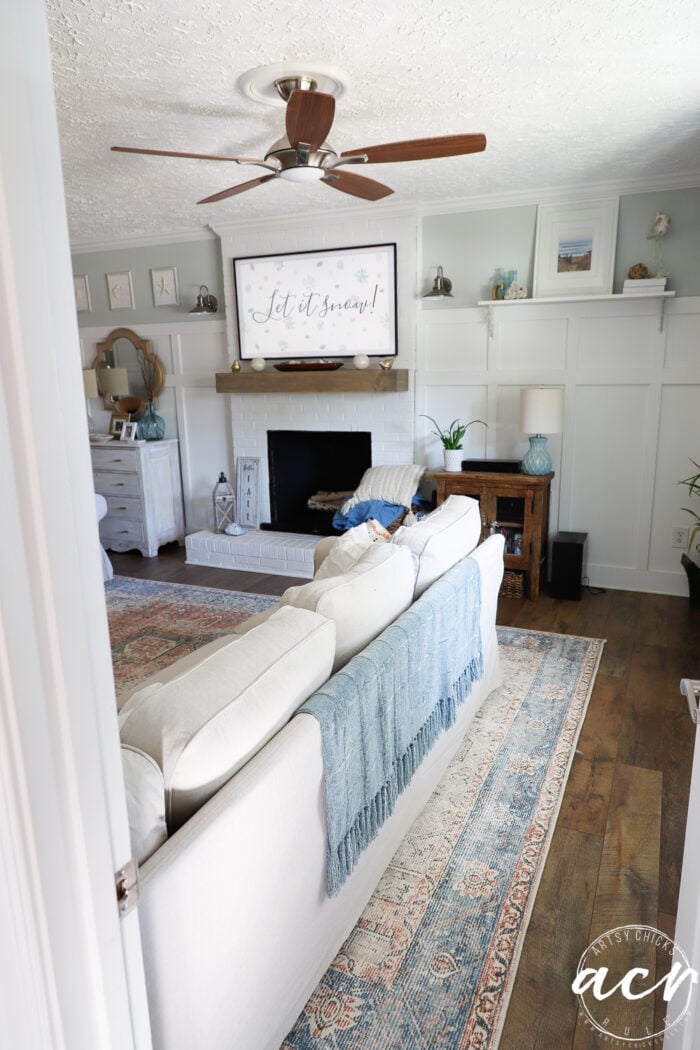 The Christmas tree will just not be in front of the window any longer. It will go in that corner instead.
You know the one with the plant I'm apparently trying to kill!! haha!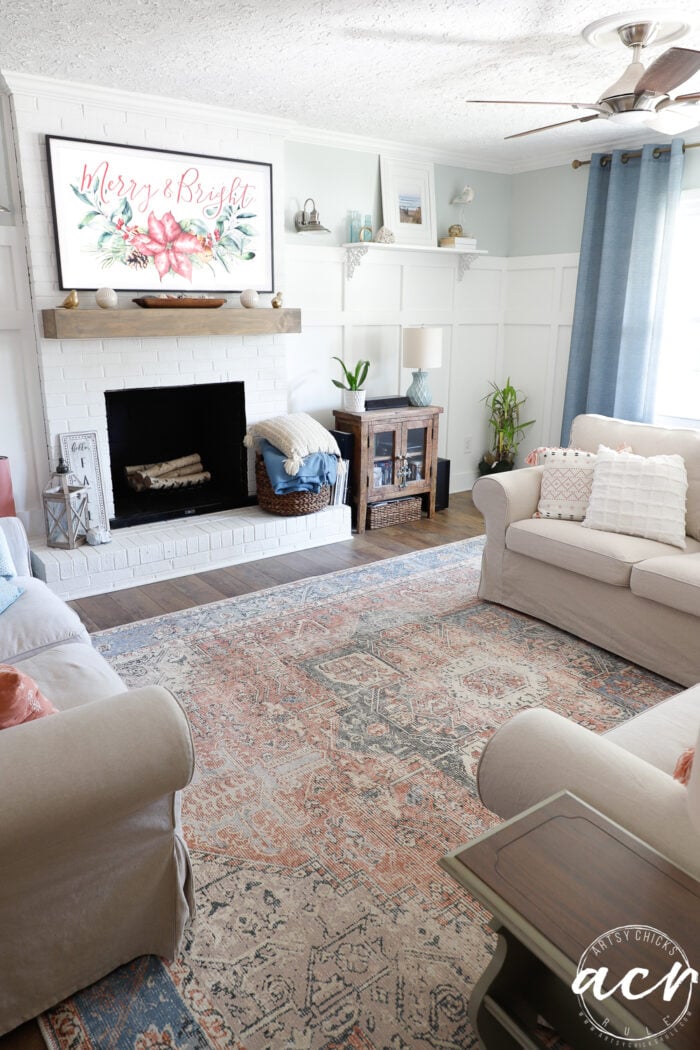 Poor plant. But I did buy a pot to repot it and hopefully give it what it needs to thrive.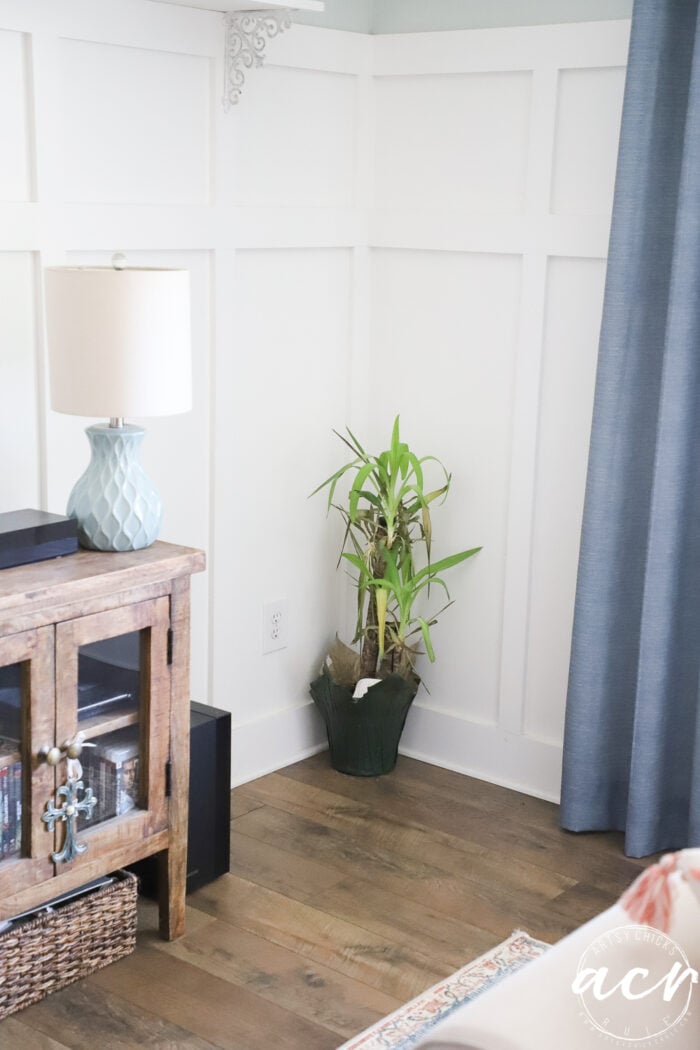 I'd like to get some kind of plant stand. Maybe something like this one I got at TJ Maxx for the bathroom. (with the plant that's thriving…because it's fake!lol)
Anyway, we have more seating than we've ever had in here with this set up!
Like the rug?? You can find it right here.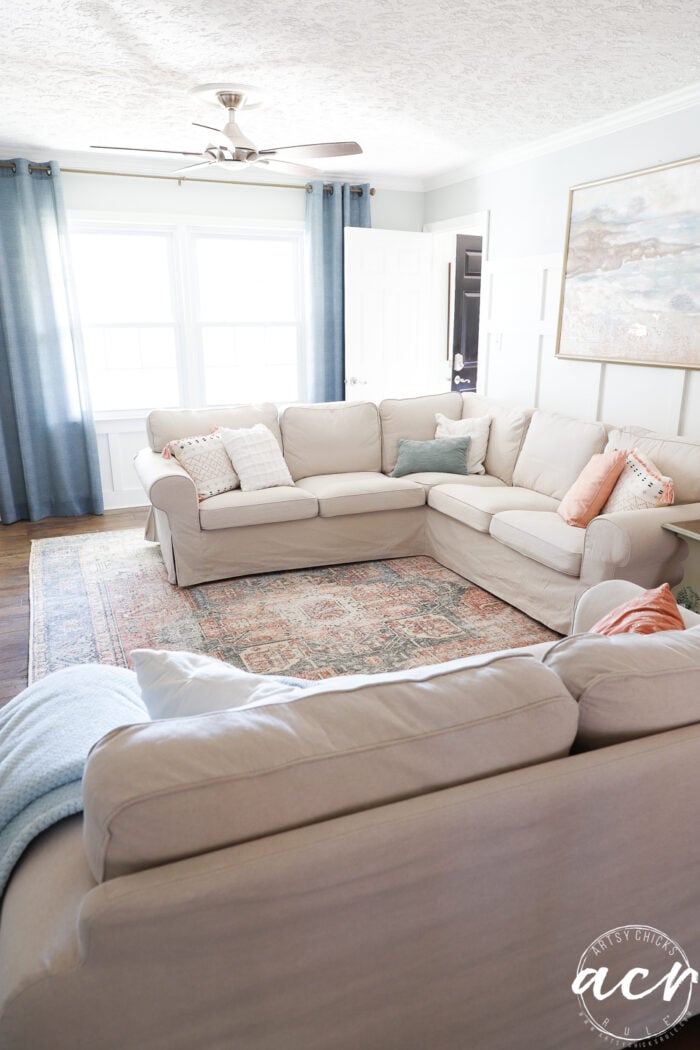 We are putting something in the middle. This…again…lol (life with me!! haha!!)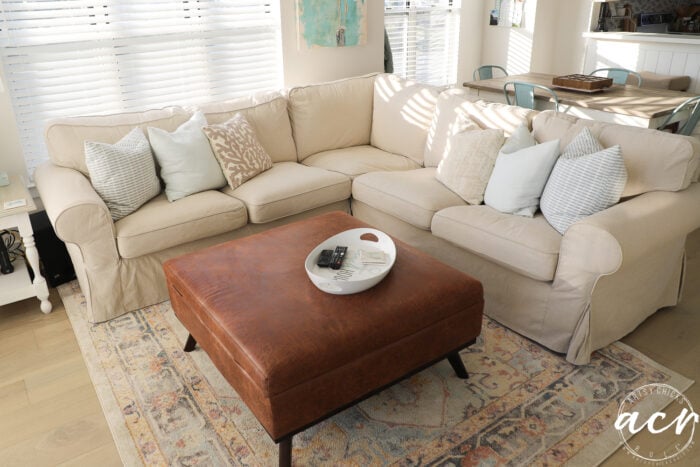 This is our beach condo and the same sectional. We bought that ottoman for our home here but decided to move it to the condo instead.
Well, we missed it. And this sectional setup we have going on now at home too would really work well with it.
So we bought another one!!
The new one is the same brand just a different color. We got Chestnut Brown this time. (a little more brown than this one)
(the Chestnut Brown seems to be sold out but here is the link to Saddle Brown above)
(link for the rug in the condo above can be found here)
And you may notice something familiar below…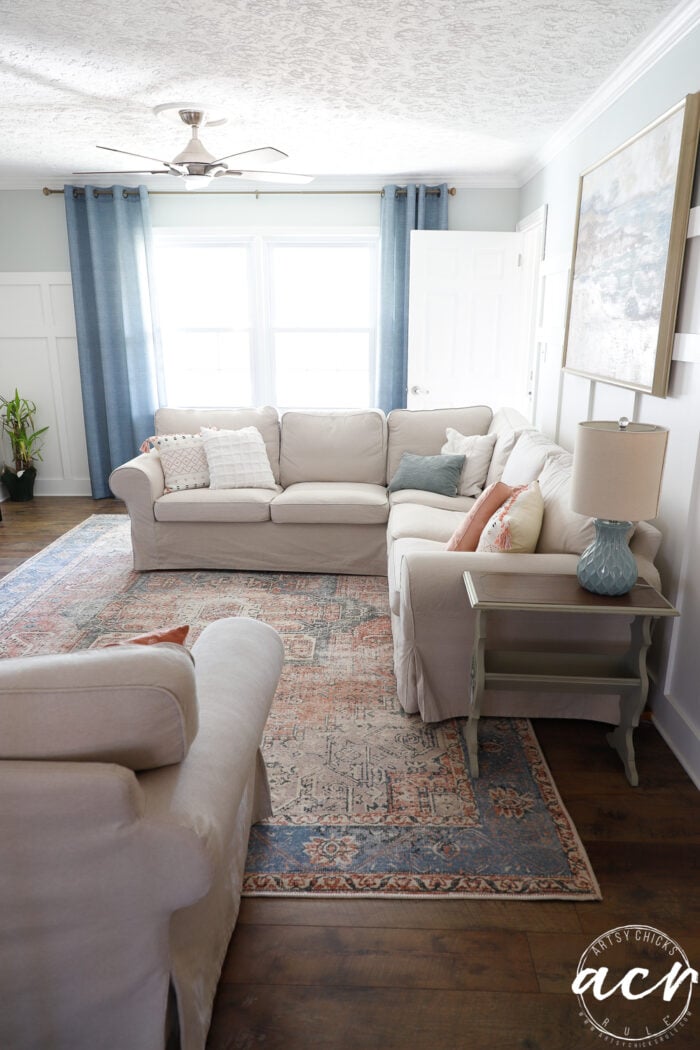 The table I gave a makeover to recently.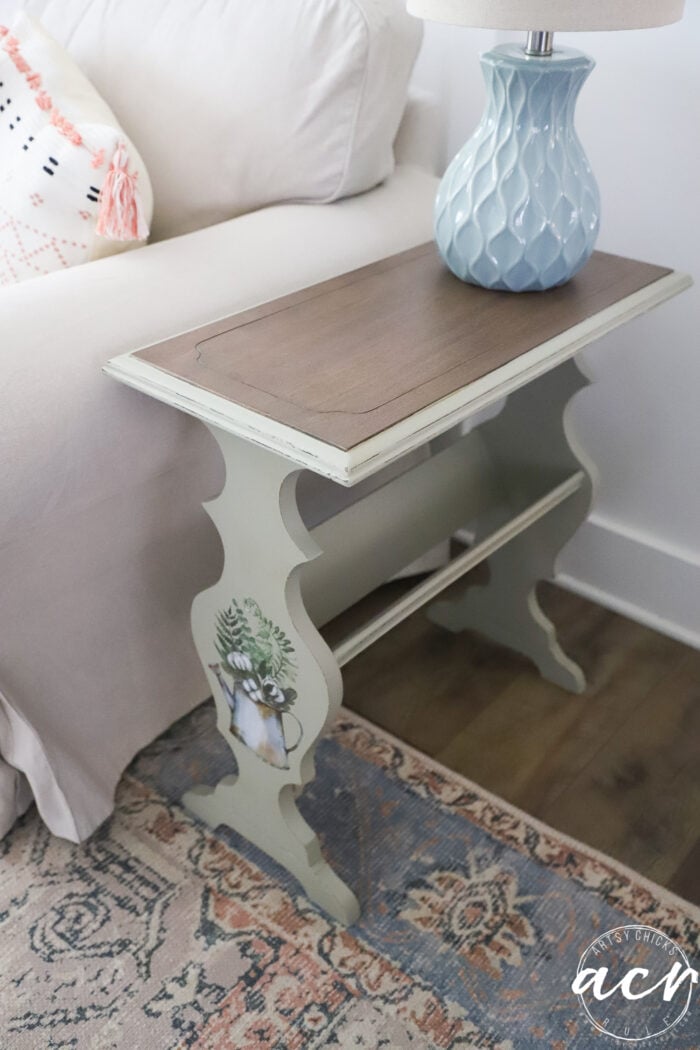 Yep, I'm keeping it here because it's the perfect size!
But… it's the wrong color/style for this room.
So can you guess?? haha!!
I am going to paint it to go better. (still leaving the wood top though)
So stay tuned for the makeover of this makeover. The things we do, I tell ya!! ;)
I'm so glad I am able to keep it and have a place for it now though. Yay!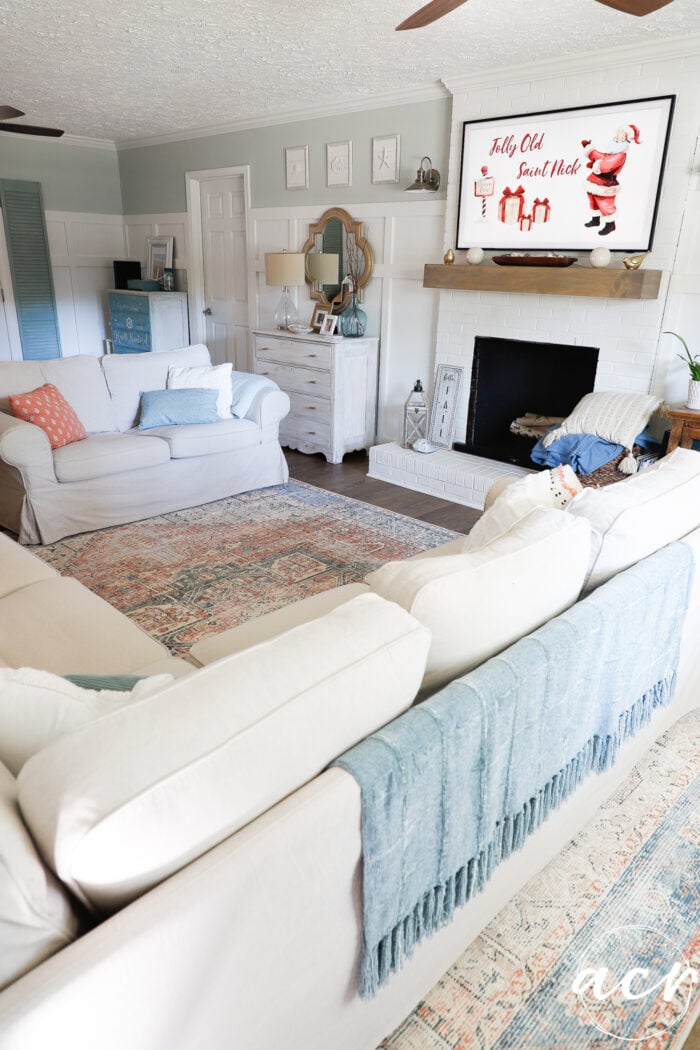 I should have the new ottoman when I share the little table makeover with ya'll. Stay tuned for that.
Oh! And if you missed the Christmas Art I created (see it on the TV in these photos) you can get it right here.
I hope enjoyed seeing the updates and mirror redo.
Have a wonderful and blessed Thanksgiving, friends!!
xoxo